About the Department
The department "Civil Engineering" was founded on the basis of the Trust "Kazmetallurgstroy" in 1969 and was called "Industrial and civil engineering".  In 1969-1974 Ph.D., Associate Professor Ustinov B.S. was head of the department. Then in 1970, the Faculty of Engineering and Construction was established and since then department became an independent unit of the Factory-High Technical Institute on the base of KMC.
In 1975, due to the quantity growth of students, the department was divided into two independent ones: "Architecture and technology of construction" and "Building constructions" moreover, in 1980 the department "Structural mechanics" was established. All three departments had graduating students and trained more than 200 young specialists per year in industrial and civil engineering.
In 1996, the all forenamed departments were merged into one and named "Industrial and civil engineering" besides, in 1999 the "Ecology" section was added to it.
Since 2007, the section "Ecology" was detached and until 2010 the department was called "Industrial and Civil Engineering". Caused by joining in 2010 the department of "Industrial Heat and Power Engineering and Metallurgical Heat Engineering" to the Department of "Civil Engineering" it was called as a Department of "Civil and Heat Power Engineering" until 2017, headed by Doctor of Technical Sciences, Professor Bazarov Baurzhan Anurkhanovich.
Since 2001, the department opened magistracy by specialty  «Civil Engineering».
Over 50 years of its existence, the department has trained more than 4000 civil engineers, bachelors of construction, 700 bachelors of engineering and technology.
In 1997, for the first time in the Republic of Kazakhstan, the Kazakhstan National Geotechnical Association was created on the basis of the "Civil Engineering and Ecology" department, which included more than 70 specialists from different universities and organizations of the Republic of Kazakhstan and its currently functioning at ENU named after L.N. Gumilyov.
In 2001, on the basis of KSIU, a division of a Scientific Research Institute of Building Production (NIISP) was formed and headed by Doctor of technical Sciences, Professor Filatov A.V.
A great contribution to science was the creation of the dissertation council K14.31.05 (approved by the order of DANK of Kazakhstan dated February 26, 1998 No. 52-1zh) on the basis of the department for the advocacy of scientific theses in the specialty "Foundations and Basements", with the chairman Doctor of Technical Sciences, professor Zhusupbekov A.Zh. From 1998 to 2001 scientific theses were advocated by 14 candidates, including citizens from Japan, Turkey and Cambodia.
From 1974 to the present day the department was headed by: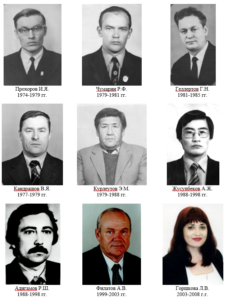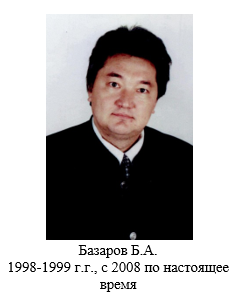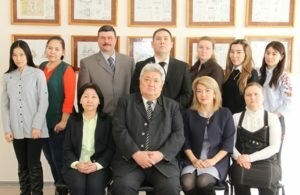 Sapar A.Zh., Nurtazaeva K.K., Kuzmichev S.S., Abdiyusupov A.G., Koenen E.V., Kaldanova B.O., Kassenova A.N., Bozshalova L.T., Bazarov B.A., Konakbayeva A.N., Mezentseva A.V.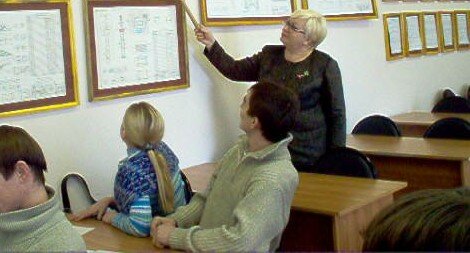 Over 50 years of its existence, the department has trained more than 4000 civil engineers, bachelors of construction, 700 bachelors of engineering and technology