Aikeyeva Altyn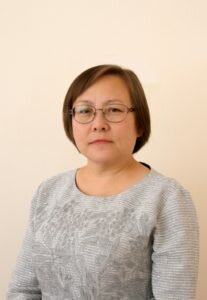 Work Phone 91-39-01, e-mail: aikeeva@mail.ru
Nationality: Kazakh
Date and place of birth: February 21, 1967; Karaganda
Education and training:
1991 – Leningrad Electrotechnical Institute named after Ulyanov (Lenin) in the specialty "Electronic medical equipment", qualification "electrical engineer";
2004.- KarSTU in the specialty "Economics in the social sphere and industries", qualification-economist;
2009 – Candidate of Technical Sciences in the specialty "Mining machines";
2011 – Associate Professor in the specialty "Electrical Engineering";
2011 – Academic Advisor of the National Engineering Academy of the Republic of Kazakhstan;
2011 – Certificate of the British Council INSPIRE VIP-seminar "Research universities and innovations – the possibility of using the British experience in Kazakhstan", Almaty
2012 – certificate British Council Seminar «How to establish partnerships with UK Universities and how to publish research in journal», Almaty;;
2012.-Certificate of the Center for National Testing "Methods for constructing test tasks", Astana
2016 – certificate British Council Kazakhstan "Commercializing Research Projects"
Certificate of training courses "Management of Education", KSU named after E.A. Buketov, Karaganda
Experience:
1991-1993 – Engineer of the Karaganda Regional Medical Treatment and Diagnostic Center, Karaganda;
1995-2009 – Assistant, Senior Lecturer of the Department of "Power supply and electrical engineering" (since 2008, Department of "Energy") KSTU;
2006-2009 – Deputy Dean of the Electromechanical Faculty (since 2008 – Faculty of "Energy, Communications and Automation") KSTU;
2009-2010. – Head. Department of "Technology and Communication Systems" KSTU;
2010- 2012 – Head of the Educational and Methodological Department of RIU;
2011- 2012 – Scientific Secretary of the Kostanay branch of NEA RK;
September 2012 Associate Professor, since September 2014. – 08.06.2017 – Professor of the Department of Radiophysics and Electronics, KarSU named after. E.A. Buketov, Deputy Dean for Research of the Physico-Technical Faculty of the KarSU named after E.A. Buketov;
from 09.06.2017 to the present – Vice-Rector for Research and International Relations of Karaganda State Industrial University.
Awards:
Grant "The best teacher of the university – 2011"
Scientific and methodological works – more than 100 scientific and educational works, including a patent and 4 copyright certificates